Blog
Fiddling While Rome Learns
Posts Tagged "reading"
March 09, 2020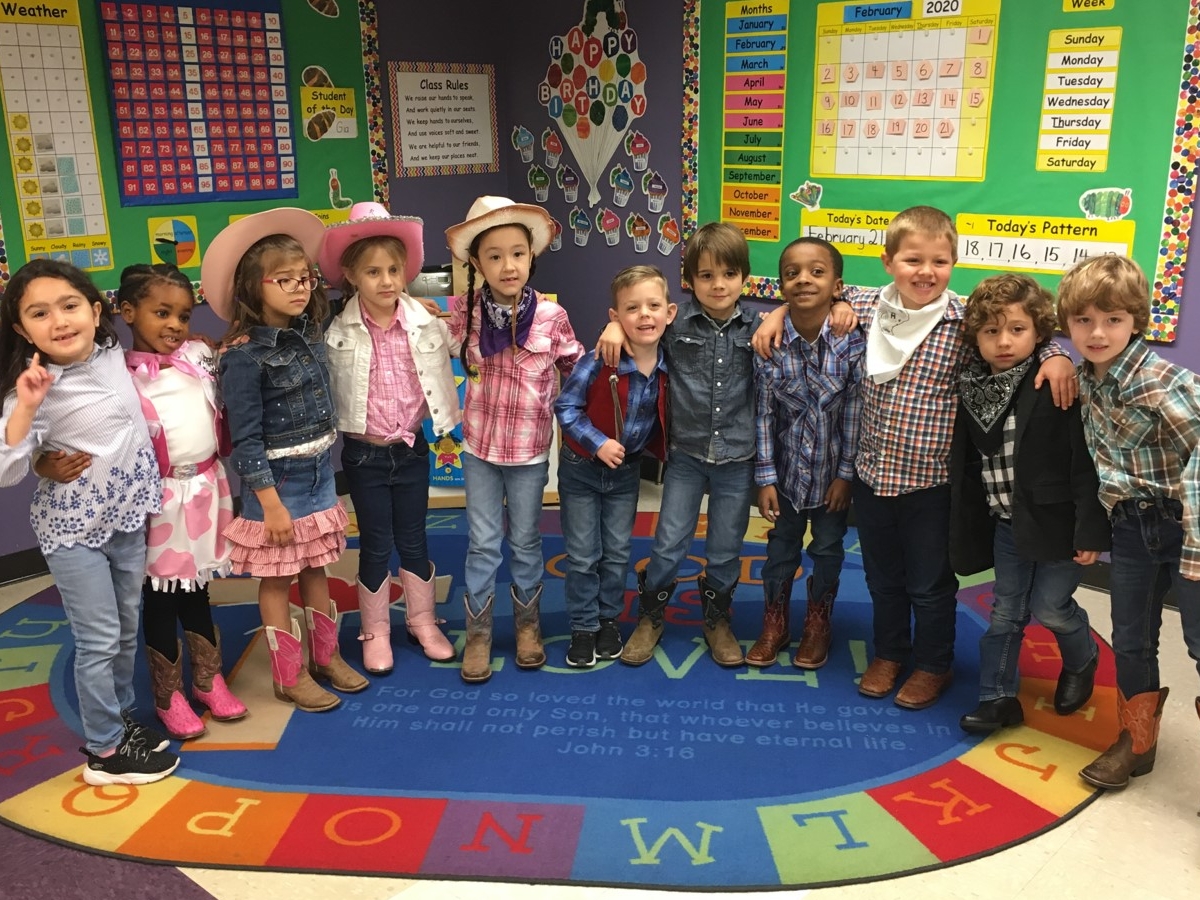 A Peek in the Classroom - Kindergarten
By Mrs. Bohot
On any given day at Memorial Lutheran School, it is not uncommon to hear students chanting their phonograms, rapping their math facts, reciting Bible verses, or singing about the continents in the kindergarten classroom. This is an age of discovery and excitement where students eagerly learn about a variety of subjects. In kindergarten at MLS, we work to build a strong foundation for our children as they begin their educational journey through elementary school. We recognize their abilities and excitement for learning and teach in a way that helps them to grow in their knowledge and build their confidence as life-long learners.
The grammar stage of classical education provides a strong foundation for our kindergarten students. At this stage of learning, students soak up and gather an abundance of knowledge. They are always learning and exploring and retain much of what they learn. At MLS, we provide instruction that utilizes this stage of development in each of our students.
Reading is a critical skill at the kindergarten level. Our Writing Road to Reading curriculum uses a comprehensive approach that incorporates phonics, writing, reading, and spelling altogether. Students learn a variety of phonograms—sounds that make up words. They put these phonograms together to form words to read and spell. Students practice writing these phonograms and words at the same time they are learning them, and they use the phonograms to decode words as they read. This thorough approach to reading development uses a variety of skills—reading, writing, and spelling—to help establish both oral and written forms of communication. This approach builds a strong foundation from the beginning, doing more than just teaching a child to read, but helping to develop spelling and writing skills at the same time. Students are also introduced to a variety of literature. As they are read aloud, students discover different types of stories and identify the type of story being read. They use a variety of mental actions to be active listeners and readers as they comprehend each story that is read to them.
In Saxon Math, students learn a variety of math skills through the use of manipulatives and math strategies. They acquire a wealth of math facts using strategies, songs, and rhymes. Learning math facts through songs and rhyme helps to make it fun for the students, but it also develops confidence in their math abilities. However, students do not just memorize math facts, they are discovering the concepts of addition and subtraction through the use of manipulatives and math strategies at the same time. Most importantly, once they learn a skill, students continue to use it all year, never losing the skill once it has been learned.
Science is always a favorite among the students. In Elemental Science, students are introduced to a variety of sciences—chemistry, geology, botany, physics, meteorology, and zoology. They learn through labs and experimentation as well as instruction and exploration. They love the hands-on approach as they discover the world around them, and they develop an appreciation of God's handiwork as they learn about the intricate details of the sciences.
History and geography are also taught in kindergarten to give students an opportunity to delve further in the study of their world and their country. Students learn about the history of the United States by learning about influential people in our history from Christopher Columbus to Martin Luther King, Jr. They focus on familiar subjects like American symbols and presidents and learn about the history behind them. In geography, students learn the continents of the world and the names of our fifty states through songs, and they also identify them on maps.
In religion class, students learn the rich history of the Bible beginning with the account of creation and ending with John's account of heaven in Revelation. Religion is taught with a Christ-centered focus, incorporating both law and gospel to give students a thorough understanding of our sinful human nature and our need for Christ's salvation. This is illustrated through every lesson. Lessons are not only chronological but also follow significant events of the church year, such as Christmas and Easter, so students understand the history as they experience the different seasons of the church year. Daily chapel also provides students consistent opportunities to confess their faith each day through liturgy and through song. The rich language of the liturgy and hymns is an ideal model for young children as they learn to express their faith daily. Using Luther's Small Catechism, students learn about the 10 Commandments, the Lord's Prayer, the Apostle's Creed, Baptism, Holy Communion, and the Office of the Keys to better understand the basis of their faith. Students memorize Bible verses that support the catechism focus each week.
At MLS, students also have the opportunity to attend additional classes with other teachers. Music instruction involves learning a variety of music skills and songs. Students also have several opportunities to perform during the school year at church services and concerts. PE is taught twice a week and students experience a variety of different sports and physical skills. Students also have art class twice a week where they learn different techniques and occasionally study an artist's work. Students also have a chance to visit the library once a week where they check out books and listen to a story read aloud.
MLS offers a comprehensive classical program that recognizes the developmental strengths of a child at each stage of learning. Instruction at the grammar level introduces students to a wealth of knowledge to help them establish a strong foundation as they prepare for the next stage of learning. It is a joy to watch these young students discover and learn!
February 24, 2020
Introduction
This post today marks the beginning of Memorial Lutheran School's blog. Weekly the faculty, staff, and clergy of MLS will release articles and devotional material for the edification of our church and school families. Mondays will feature the release of an article on classical Lutheran education, philosophy, worldview or other topics. Wednesday will feature a sermon preached in chapel during the week prior or a devotion appropriate to the current season of the Church year. We pray that the blog will be a fruitful way for MLS to foster discussion and enthusiasm toward "building a strong foundation."
In Christ,
The Faculty and Staff of MLS
-----
"The How and the What"
---Musings on "the importance of teaching our students how to read and write, how to think, and how to imagine beyond themselves, their experiences, their lives, and their world."---
Martin Cothran of Memoria Press has stated succinctly that a classical education is one that teaches students "how to think and what to do," (Martin Cothran, What is classical education?, Memoria Press, 2017).
Reading, writing, thinking, imagining: these are critical skills. They are skills that require a judgment or discernment. This word "critical" comes from the Greek word kritikos, which in turn comes from the Greek verb krino, meaning to judge or discern. When one does any of the above (reading, writing, thinking, imagining), judgments and decisions are made. Seldom do we think about how we make those judgments. We do not ask the questions that we ought. What assumptions underlie our decisions? What assumptions underlie what others say or do? Are these legitimate assumptions? When reading, is there a way to sympathize with a character or an argument without claiming it as our own position?
A classical education is a "liberal" education. It is freeing in its inculcation of the "how" to think, read, write and imagine, and the "what" of virtue, eloquence, and Christian love. It is freeing too in how it permits each student to see that their knowledge, their works, their emotions and experiences all work together to serve those around them and those that they come in to contact with.
A classical education frees children to think critically and to do so with well-trained discernment. This is important because each student needs the tools of discernment to serve the neighbors that they will have now and will have in the future. A great education may be one that merely teaches "how to think" properly. But a classical Lutheran education is uniquely significant in that this, proper thinking, is not the end or point of the education. The end, the telos (another Greek term that is quite useful), is to love the neighbor, to look outside of oneself. A classical education is dedicated to teaching children "how to think" and "what to do." This is all for the benefit of the other and not the self.
Our education is directed outward. Much of education has been focused inward, motivated by the "self". Therefore, the focus on the teaching of "how to think" instead of "what to think" is "critical." Now of course, students must be inclined and directed toward this "how". A certain extent of the "what" must be taught so that reading, writing, and arithmetic can lay the foundation of the skills of the Liberal Arts. But once the tools are in place, then instruction toward the "how to think" can begin. "How" is applicable in a variety of circumstances and this is a boon to the classically educated youth. Many children and adults have been trained solely in "what to think" and there is little freedom to think outside of one particular profession or mode of life. A training in "how" provides the tools to transcend the modern sins of self-absorption and self-centeredness. The narcissism of our age (see Christopher Lasch, The Culture of Narcissism: American Life in an Age of Diminishing Expectations for example) becomes more deep-seated with every generation.
Thinking beyond oneself involves analyzing assumptions and presuppositions. Talking beyond oneself involves listening to others. Reading beyond oneself involves taking chances by reading outside of one's preferences. Imagining beyond oneself is the result of loving, analyzing, listening and participating in the conversation of humanity. On one level this conversation takes place in the classroom as the result of a curriculum founded upon classical principles and texts and lectures that come from the treasure trove of Western civilization. On another level, the formal instruction of education is the beginning of the act of inclining and forming students towards the actions that foster the love of the neighbor. This training in "how to think" molds one towards the proper "what": loving others in thought, word, and deed.
Classical Lutheran education inclines and forms students to think about themselves in light of others. Our Lord's summary of the "greatest commandment", love of God and love of neighbor, properly directs our focus and our end (Matthew 22:37-40). The love for God that Christians have is shown outwardly when we love our neighbors. The law here is that we need to think beyond ourselves, our needs, our emotions and our experiences. Learning "how to think" prepares us to do this academically and theologically. The academic knowledge and the theological knowledge gained from a classical Lutheran education equips students to think, talk, read and imagine in ways that serve others. The promise here is that God provides us love through our neighbors and love for our neighbors through us. Training children to be thoughtful, conscientious, and loving neighbors through thinking, reading, talking and imagining is a noble and worthwhile endeavor. We at MLS are glad that you are a part of it.
Rev. R. W. Paul - Headmaster and Associate Pastor